Best Material for Outdoor Furniture
Table of content
1. Introduction
2. Things to Consider When Selecting Outdoor Materials
3. Best Material for Outdoor Furniture
4. Miscellaneous Outside Furniture Materials
What is the best material for outdoor furniture? How to Choose the best furniture material for your patio and garden?
Well aware of the varying seasons, outdoor furniture setting needs to maintain its original fettle and outlook over all seasons and weather conditions. Also, it's essential to consider the resources set aside to preserve the outdoor furniture. The resources needed to determine the costs, placement, eco-friendliness, time, and durability. A combination of these guarantees long-term use and enjoyment, though the more expensive, the better the quality of the product.
Things to Consider when selecting outdoor materials
The structure and appearances of outdoor furniture frames, upholstery, and tabletops need to be maintained over long-term and various weather conditions. Similarly, the cost, time, and effort are essential factors to be considered in maintaining materials throughout the year as well as the "green-ness."
Moist and Rain
Anyone living in an area with high humidity or frequent rainstorm would consider buying furniture with high resistance to water-based damage. Health risk and physically degraded material are the effects of standing water and retained moisture.
Rot, Mold, and Mildew
Fungi thrive in moist and humid environments. Irritation, respiratory problems, and other health issues are the effects of Mold and mildew, a product of organic materials that retain water. But they can be cleaned off as they do not typically damage the material. However, rot is a major concern because it causes the decomposition of materials and biodegradation.
Corrosion and Rust
Metals in the form of Iron and steel are susceptible to corrosion when under continual exposure to oxygen and water. The oxidation process caused by corrosion slowly weakens these metals, resulting in discoloration and visible rust effects. In coastal regions, rusting I'd often be more prevalent as water and salt in the air accelerates chemical processes.
Warping
The original shape of materials is bound to twist or warp on water penetrating materials as they can dry unevenly. Over time, the effects will become visibly noticed In the form of misalignment of seams, noticeable distortion on the furniture, loosening of screws, and other fasteners used to put together the furniture. But that may not be the case at the beginning.
Temperature and Sun
You will consider outdoor materials that have high resistance to damage from high UV rays if you live in sunny areas or areas with inconsistent seasonal climate shifts, and as well shift from extreme hot to cold weather conditions.
Fading
Materials constantly exposed to the Sun will lose their luster and fade over time. The change in color will reduce the vibrancy or cause spotting through the refreshing change that can be appealing(e.g., patina ).
Cracking
When heated or cooled, some material noticeably contracts or expands. Exposure to drastic fluctuations and extreme temperature causes materials to crack, warp, brittle, and even split. Furniture is susceptible to crack or bend when exposed to dry air.
Heat Retention
Patio furniture can become unsafe to touch when left in the Sun to heat up. The heat can lead to other logical problems and nobody wants to burn their skin in an attempt to change the position of a poolside lounge chair or when they sit down.
Wind
Having heavy outdoor furniture that cannot be tipped over or blown away by the matter of nature - wind, is extremely important if you live in an extremely windy or open area. It is better to be safe than sorry. It will not take a heavy wind anything to damage a lightweight deck chair or dining table. Hence, you will need to continually secure them when they are not in use.
Durability
Some material can stand a lot of weather conditions for a lifetime and still look new, while some may need to be replaced after a few years of exposure to a couple of inclement weather under ideal conditions. Usage is another variable that relates to durability. Eating on your patio dining table only a few times will have less wear and tear than daybeds and Sun loungers at the poolside of a popular resort or hotel. The more durable material will be is dependent on how frequently it is used.
Care and Cleaning Difficulty
Your patio furniture aesthetics and functional durability are determined by how well you take care of them. Some material would require special products and more intensive care to keep them working properly and looking great. While others require a simple cleaning exercise with soap and water, and little attention every season. There are also lower maintenance materials if you don't want the hassle or your time is at a premium.
Eco-friendliness
The production processes and the raw materials that go into products have an environmental impact, which has become widely known by individuals though they may not know the specifics. Many individuals prefer to be ecologically responsible and most luxury brands who produced outdoor furniture have adopted eco-friendly manufacturing practices. They now use materials that are certified eco-friendly organizations, biodegradable, or recyclable. The renewability of different outdoor materials vary according to Forest Stewardship Council ( FCS)
Cost
Choosing one material over the other for your furniture comes with financial implications, and everyone considers this whenever they want to make a purchase. But having a good understanding of the long-run cost and prices vs the value of the benefits, and staying within your budget will help your decision. Here are a few questions that can be an eye-opener when evaluating alternative options. How often will there be a need for replacement? Does it require a huge amount of time and effort to maintain?
Best Material for Outdoor Furniture
Wood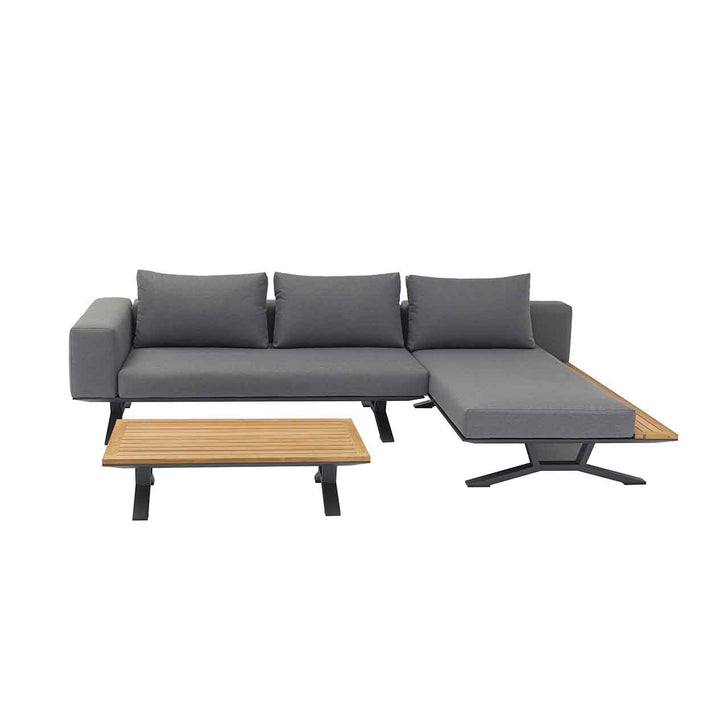 For millennia, wood has remained the popular raw material for furniture. Wood is naturally easy to work with and provides muscle for benches, tables, chairs, and other furnishings. However, when it comes to the outdoors not all woods are created the same. Cedar, pressure-treated pine, and fir which are softwoods are inexpensive and widely used for indoor furnishing.
They do not stand up well to weather elements and when not in use require constant protection. On the flip side, hardwoods resist weather damage, are much heartier and if properly treated can last for decades. They are more expensive and more difficult to shape than Softwoods. Hardwoods have major differences too.
PROS
Gives any outdoor space a casual and warm feeling.

Cedar and acacia are the best in resisting natural weather.

Teak is the best durable material that can last a lifetime if you properly care about it.

Withstands sunlight, wind, extreme temperature, humidity, and rain if you seal it properly.
CONS
Always use pads, felt or coasters to avoid heat marks and moisture ring appearances.

If you are in humid climates, consider sealing your furniture using stains or varnishes

Get rid of pollen, dust, and dirt using clean water with mild soap to clean sealed wood.

Clean painted wood using a damp cloth to avoid exposing it to moisture.

To preserve the quality of your wood furniture, keep it away from sunlight and rain if the material is not treated.
Teak
When it comes to outdoor furniture, teak is the most popular wood choice. The price of this fine-grained hardwood has been pushed extremely high by its high demand and limited availability. It is ideally suited for outdoor use by its many characteristics.
Teak does not crack, become brittle or warp like many other wood types because it repels water and does not shrink or expand when drying. Teak is highly resistant to rot, insect, and decay because of its high natural oil content. It lasts the longest up to years due to its durability against elements. With minimal oil, the teak's honey brown appearance can be maintained but will change into attractive silver-gray colored patina if not treated over time. At least a few pieces from this handsome wood are made by most patio furniture brands.
Artistic collections of outdoor lounge and dining furniture are gracefully designed with its inherent strength and its natural beauty by Skargaarden and Skargerak, Scandinavian manufacturers. Teak can be cleaned with mind soap and water and is easy to care for.
CONS - Very high price

PROS - Strong, Durable, resistant to decay, weather and insects, easily cared for, no cracking or wrapping.
Shorea
One of the hardwoods that is heavier and stronger than teak is shorea (a.k.a meant ) a reddish-gold Southasian material. Shorea has a dynamic nature, exposure to heat improves its strength (rupture ) and flexibility ( elasticity ) [ Noh and Ahmed 2017 ].
To maintain its sustainability, shorea is highly regulated, like other hardwoods used for outdoor furniture. Its high oil content protects it against insects, resists weather damage, and minimizes rotting. Shorea becomes a silver-gray patina if not oiled regularly just like teak and lasts up to 50 years.
However, it has a drawback which is due to public unfamiliarity, few retailers sell it and the price is lower.
CONS - Limited commercial availability

PROS - eco-friendly, insect and weather-resistant, strong, and cost-effective vs teak.
Eucalyptus
A fast-growing, long-lasting, and strong Australian hardwood that offers significant cost vs teak. Its oil acts as a natural insecticide, it is also weather and rot-resistant. Eucalyptus has a blend rustic appeal from its natural washed appearance and will develop into a silver patina if not oiled regularly. To improve eucalyptus resistance to a pest, a sealant is recommended and this will minimize the impact of uneven moisture retention.
CONS - Vulnerable to cracking when untreated and susceptible to pinhole borers and marine.

PROS - rot and insect resistant, cost-effective, durable, and eco-friendly sustainable growth.
White Oak
White oak is harder and stronger than most hardwoods and lasts for decades. Due to its structural ability to repel water, white oak has been used to build boats and it also resists rots. Due to the lack of much natural oil, it requires sealant or paints to retain its durability. White oak over time if untreated develops an attractive gray patina.
CONS - Contain minimal oil

PROS - Strong, waterproof and water-resistant

Other Hardwoods
At a much lower price point than teak, several hardwoods share some of the positive qualities. But they have their drawbacks relative to the above-mentioned hardwoods. Reddish-brown acacia (a.k.a. locust) is available but is more likely to crack or warp than eucalyptus or shorea. While African iroko is very hard to work with, blunts woodworking tools and easily splinters. Roble is scarce, lightweight, and lasts half as long as teak. Mahogany has a beautiful reddish tint, but is coarse, doesn't handle rot as well as teak, and requires a lot of maintenance and.
Metal The most durable and strongest material for outdoor garden furniture is typically metal. It gives manufacturers greater style flexibility due to the strength, metallic frames that can be thinner and shaped into more complex designs than other options. When combined with other materials that have their own functional and aesthetic benefits, metal is a great choice.
Metal chairs and tables that don't require screws, bolts, or other fasteners that make other types of furniture more susceptible to break down can be created using various production techniques.
However, metal has its drawbacks as well. It heats up in the Sun, making it uncomfortable to touch. All metals are vulnerable to corrosion to some degree and rust. Certain metals are very heavy and hard to move. But each type of metal has its own unique set of characteristics.
Resin Wicker
Also referred to as all-weather wicker, this weather-resistant, long-lasting synthetic fiber weave is wrapped over a given metal frame. The wicker furniture is made using rattan and cane, which are traditional materials. The word wicker is drawn from the style in which the furniture is woven and not necessarily the material that was used to make the furniture. Resin Wicker is made using thin strands of nylon, PVC, polyethylene, and or high-density polyethylene.
Benefits
Gives your home and the furniture a perfect traditional look

It is more durable compared to traditional wickers

Most of the quality resin wicker is UV-resistant, therefore, does not crack or fade

Withstand sunlight, rain, and humidity
Care Tips
Spray with clean water to remove dirt and pollen

Keep air dry

If you are not sure about the ability of your furniture to resist sunlight, ensure that you keep it in shade when not in use.
Stone
Stone is an amazing material for exterior applications thanks to its organic nature and tonal variations. In recent years stone outdoor furniture has become an important part of people's outside life. With a solid structure and smooth surface, stone outdoor furniture is easy to maintain and able to withstand extreme weather; at the same time, a quality natural stone patio furniture can last many years to use.
However, everything has two sides. On the one hand, most stone patio furniture is bulky and heavy which makes them occupy large spaces and uneasy to move freely; on the other hand, the cost of stone outdoor furniture is a little bit high, too. Here are some concrete merits and demerits of stone outdoor furniture.
Pros
It has natural and unparalleled beauty.

It has one of the most durable designs compared with other materials.

It is no need to polish the stone furniture frequently.

It is resistant to abrasion and scratch.

It is easy to match your outdoor area design.

Cons
Most stone outdoor furniture is bulky and heavy.

The cost can be expensive.

The installation of it is a little bit time-consuming.
Aluminum
For outdoor furniture, Aluminum is the most popular metal. It is strong, durable and can easily be transformed into a variety of shapes, despite its lightweight. Aluminum has low maintenance, is relatively inexpensive, and it never rusts. A polyester powder coating is recommended, although it is highly weather-resistant on its own. This electrostatic process not only increases protection against the elements and scratching, but it also allows you to add color mix.
Powder coating adheres better to the metal and is much more resistant to fading, though you can buy painted Aluminum. This is also helpful if your deck or poolside is exposed to salt air, which tends to eat away at the paint and untreated metal. It's best to have seat cushions to keep you cool and comfortable because, like other metals, Aluminum heats up.
CONS – It retains heat and hollow tube frames may blow over in high winds.

PROS – Inexpensive, lightweight, weather-resistant, strong, and low maintenance.
Wrought Iron
If properly cared for, Iron can last a hundred years. Throughout history, it has been used for buildings, furnishings, and tools because of its durability and strength. It is difficult to move wrought or cast iron furniture because it is among the heaviest of metals and won't blow over in the wind.
Wrought iron is extremely malleable when heated and hammered into shape. This allows it to form ornate hand-crafted designs with an upscale artisan feel. Cast iron, on the other hand, is heavier and harder to manage than wrought Iron. It can be melted and poured into molds.
Outdoor iron tabletops and frames require a lot of care to maintain, clean, and protect against rusting, yet it is long-lasting. The best contemporary wrought Iron is treated with weather-resistant finishing to seal out damaging moisture.
Similarly, the metal gets very hot in summer and cold if left out in the winter, it tends to match the prevailing temperature. Wrought iron outdoor furniture can be uncomfortable without upholstery to cushion the seat and backrests.
CONS – Difficult to move, requires more maintenance, rusts easily, can be uncomfortable, and retains heat or cold

PROS – Solid, stylish classic look, durable, and great for windy areas
Stainless Steel
This is a great material option for large weight-bearing outdoor dining tables, sectionals, and sofas because this sturdy metal alloy is extremely strong. Its high density helps prevent dents and other damage from frequent use. Stainless steel endures extreme temperatures better than most metals, while it does get hot to the touch when exposed to the summer heat.
Especially in coastal areas where water and salt air are present, a powder coating is recommended for added resistance. Its composition makes it virtually immune to corrosion and rust. Comparing different types of stainless steel?, the higher the Chromium content the more resistant the alloy is to atmospheric corrosion.
Similarly, the presence of Molybdenum prevents red rust and reduces the depth of surface pitting. Garden and patio furniture made from stainless steel is heavy and will not tip over or blow away under windy conditions.
It's a great material choice for high end modern outdoor furniture since its sleek silvery metallic finish has a chic contemporary look. Though it's expensive, stainless steel is worth every penny. Not only is it relatively easy to clean, but it's often made using recycled metals, making it an environmentally responsible choice.
PROS
Its heavyweight makes it stable ensuring a lasting construction

Steel does not dent easily like aluminum, which is very light in weight.

The powder coat prevents moisture and therefore no rusting.

Gives your space a clean and sophisticated look

Withstands humidity, rain, and extreme temperatures.
CONS – Retains heat and expensive
Resin & Plastic
In the world of outdoor furniture, man-made synthetic materials such as resin and plastic, are becoming more prevalent. New manufacturing processes can enable these polymers to take on sizes and shapes previously unattainable.
Synthetics can be molded into any decor style imaginable and they are typically lightweight and inexpensive. They fade resistant and don't require paint or sealants as used by other materials because the color is inherent in the chemical make-up. They are easy to maintain and clean. The number of plastics and resins is growing but here are a few of the more common ones currently in use.
All-Weather Wicker - Synthetic ResinSynthetic polyethylene resin is used to making virtually all outdoor wicker furniture. A variety of organic sources such as bamboo, rattan, seagrass, banana leaf, and willow are used to make natural wicker. While strong and aesthetically pleasing, plant-based wicker is susceptible to damage from rainy weather, moisture and humidity – a poor material choice for outdoor chairs, sofas, and coffee tables.
High-quality resin is eco-friendly, very dense, and resistant to weather damage. High-density polyethylene (HDPE) is highly puncture-resistant, does not emit any chemicals, and can be exposed to UV rays without experiencing any degradation for decades. [Topliff 2018]. Synthetic all-weather wicker is easy to clean, fade-resistant, lightweight, and also strong.
Lower quality synthetic wickers that tend to become brittle and crack over time are made from polyvinyl chloride (PVC). To increase the weight it can support, most outdoor wicker patio furniture is constructed over an aluminum frame. Synthetic wicker can be made virtually indistinguishable from natural wicker by coloring it an organic shade. It can also be given a vibrant tone that adds a pop of color to your hardwood deck and lanai.
CONS – Not ideal for windy environments.

PROS – Can look like natural wicker, HDPE wicker is 100% recyclable, easy to clean, and extremely weather-resistant.
Recycled Plastic
For stylish outdoor patio furniture, eco-friendly recycled plastic - i.e., shampoo bottles, made from milk cartons, etc. is a great option. It is resistant to insects, moisture, and mildew, extraordinarily strong, durable, and saltwater.
Though still susceptible to high winds, recycled plastic can be heavier than other plastic materials. It doesn't require much maintenance, crack, or peel. It is easy to clean with soap and water, and stain-resistant.
CONS – Too light for extremely windy conditions

PROS – Fade and weather-resistant, strong, "green," and easy to clean.

Other Plastics
The most common form of plastic used to make deck furniture is Polyethylene (PE). High-density version (HDPE) is required for outdoor applications because it is cost-effective, more durable, and weather resistant. Polypropylene (PP) is highly resistant to chemical degradation and head, and lighter weight.
Although susceptible to scratching, Polycarbonate (PC) is a very tough material that is impact-resistant. When transparency is desired, it is the preferred choice of plastic. Acrylic – Polymethyl Methacrylate (PMMA) is similar to polycarbonate in that it is clear. However, this less expensive alternative is not as strong and is vulnerable to cracking.
Miscellaneous Outside Furniture Materials
Luxury outdoor furniture utilizes several other durable materials in a variety of applications in addition to wood, metal, and plastic. Patio dining tables, for example, may have metallic or wooden frames with a tabletop made from another material. These substances have different qualities that are appropriate for specific aesthetic and functional requirements.
High-Pressure Laminate (HPL)
High-Pressure Laminate is a composition usually made of kraft paper that is impregnated with Aluminum and resin and then heated under high pressure to create a contemporary layered material.

HPL has a sleek look and is extremely hard which helps it resist scratch and stains. To increase its durability, melamine can be added. It possesses antibacterial properties and flame retardant.
HPL made with pine kraft lignin is especially good for outdoor applications, as it has a low rapport with water which can cause cracking, swelling, internal stress.
CONS – It can cost more than alternative materials

PROS – Sleek modern look, and resists bacteria and superficial marks from spills or impact

Tempered Glass
Because of its resistance to temperature changes, tempered glass is often used for outdoor tabletops. Lacquering glass increases its protection against the effects of the elements, while acid washing inures it to smudges and fingerprints. Its smooth surface provides an elegant touch, while the clarity creates an open and airy feel.
Glass is a great choice for sunroom or screened-in porch dining and coffee tables, where there is some shade to prevent the sun from reflecting off it and blind guests. Glass can be tough and heavy to move, depending on the thickness.
CONS – It may be too heavy to move easily and can cause glare in sunny areas

PROS – Looks elegant and resists temperature

Concrete
While some minimalist modern environments may incorporate solid concrete outdoor furniture into their permanent design, this composite is more frequently employed in conjunction with other materials. It can serve as a sturdy base for glass top dining and lounge tables, or as an imposing tabletop sitting upon a solid metal frame.
Concrete is strong, timeless, and can withstand the harshest elements for years. It can be poured into a variety of shapes and, when reinforced with fiber, molded into thinner constructions.
Fibers may consist of glass, steel, synthetic, or organic material, and they increase the structural integrity of the concrete. It also helps the material withstand water and frost better.
CONS – It can be too heavy to move quickly or easily

PROS – Durable, strong and can take on any shape
---